Return to the Source (2019)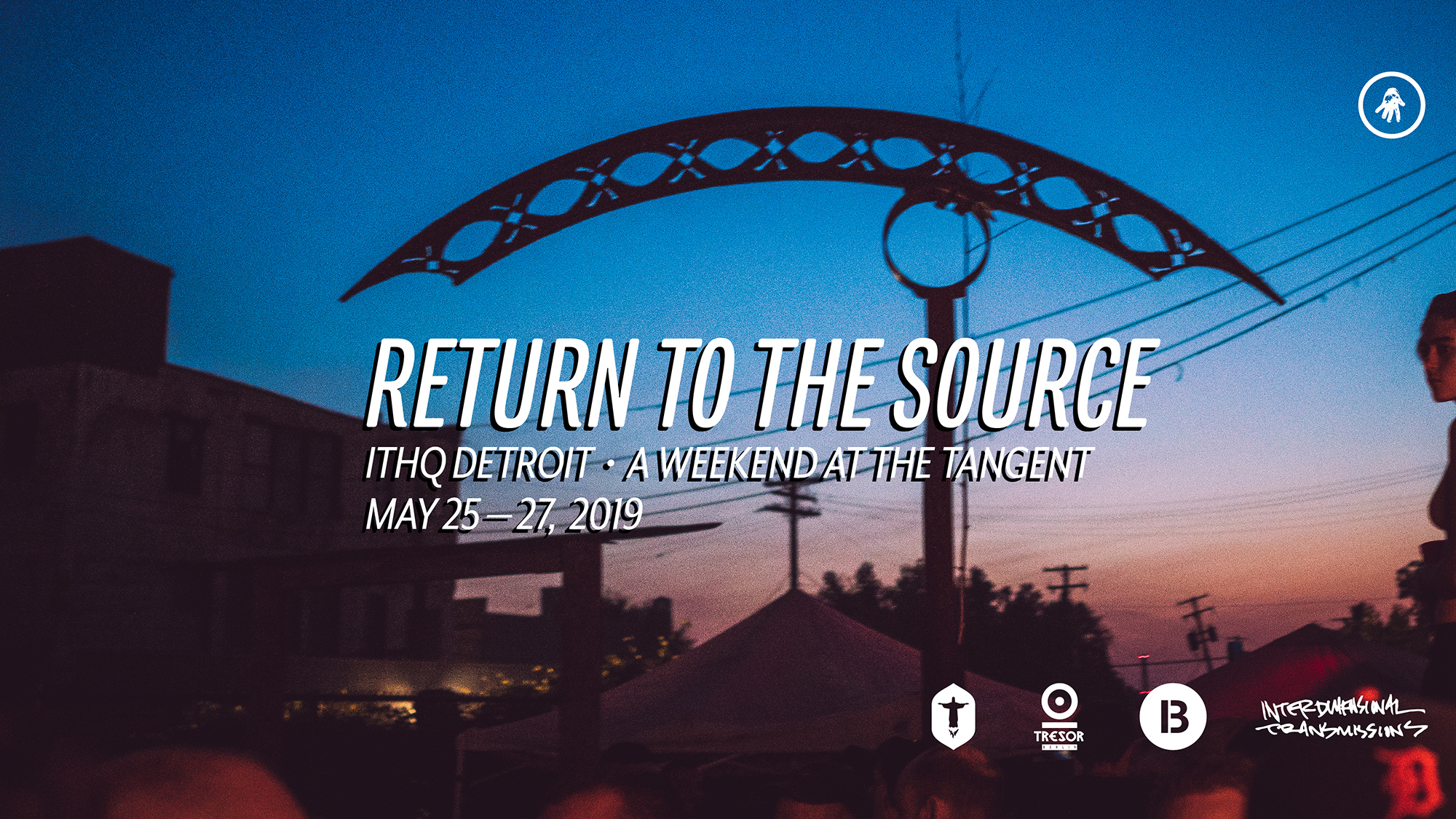 What began in 2007 as a party that extended beyond boundaries has found a home in the Tangent Gallery, blossoming into its own kind of festival. There's the Tresor Detroit party on Saturday Night ending with a sunrise set from Daniel Bell, and once No Way Back starts on Sunday, the music will continue for 37 solid hours, with Lot Mass directly following No Way Back outside on Monday at noon and The Bunker party on Monday night ending well after dawn on Tuesday. With all these events, the Tangent will become its own special destination that weekend. We all need a place to call our own, and for this weekend that venue is the Tangent. This is Return to the Source 2019. 
This year we celebrate with a specially priced weekend pass for all Return to the Source events. This wristband allows:
 – Admission to Tresor Detroit, No Way Back, Lot Mass and The Bunker
 – Re-entry to these 4 events at any time
 – Priority entry lane 
 – IT tote bag, redeemable at the merch booth
With the newly redesigned entrance, this pass will allow you to experience the 37 hour party with no interruptions.
We've radically improved the infrastructure, including adding veteran festival organizer and logistics expert Kate Lesta to the team. We've improved the flow of the party with a totally rethought entry and exit, expanded outside area that will include a Zendo and medical tent, food trucks, and a greater outdoor sound system.  
To further celebrate No Way Back's 12th year, we are continuing the Acid Series, a series of records on IT inspired by the No Way Back parties, with a new volume from Pervocet (Patrick Russell & Jasen Loveland). We also have a new album on Eye Teeth from Israel Vines, and a reissue of the second ever record on IT, Ectomorph's Stark EP from 1995. The Acid Series will continue this year with records from Dona (DJ Plant Texture), Tin Man & Ectomorph, Romans and a special closer from Jasen Loveland. They all arrive in a unique sleeve especially created for this series, inspired by the decorations of NWB. These releases, including all Acid Series records, will be available in the merch booth during all Return to the Source events (the booth closes at 6am during NWB and reopens for The Bunker).
We've made a video with Andrew Charles Edman from some of IT's highlights during Memorial Day weekend last year entitled "From the Underground to No Way Back," where we transform the Underground Stage to a portal to another dimension and then bring that back to The Tangent. Enter the dimensional wormhole and get lost in music. 
 
May 25
Return to the Source — Day 1
Tresor Detroit 
10PM - 8AM
Mark Ernestus
Regis + Veronica Vasicka
Claude Young – live / DJ hybrid show
Daniel Bell – sunrise set
Orphx – live
Wata Igarashi
Marcellus Pittman
Bill Converse
May 26
Return to the Source — Day 2 
No Way Back
11PM - Noon
No Way Back Room
BMG
Bryan Kasenic
Derek Plaslaiko
Erika
Eris Drew
Mike Servito
Patrick Russell
Outer Space Room
Mark van Hoen (Locust, Seefeel) – live
Outer Space – live
Grant Aaron
Scott Zacharias
May 27 
Return to the Source — Day 3
Lot Mass 
Noon - 10PM
Gene On Earth
Jason Kendig
Evan Baggs
Boo Lean
The Bunker
10PM - 6AM
The Dance Room
Wata Igarashi & Patrick Russell
Antenes & Erika
Mike Servito & Bryan Kasenic
The Come Down Room
Silent Servant & Carlos Souffront
Abby Echiverri & rrao
Podcasts from these events