Return to the Source (2022)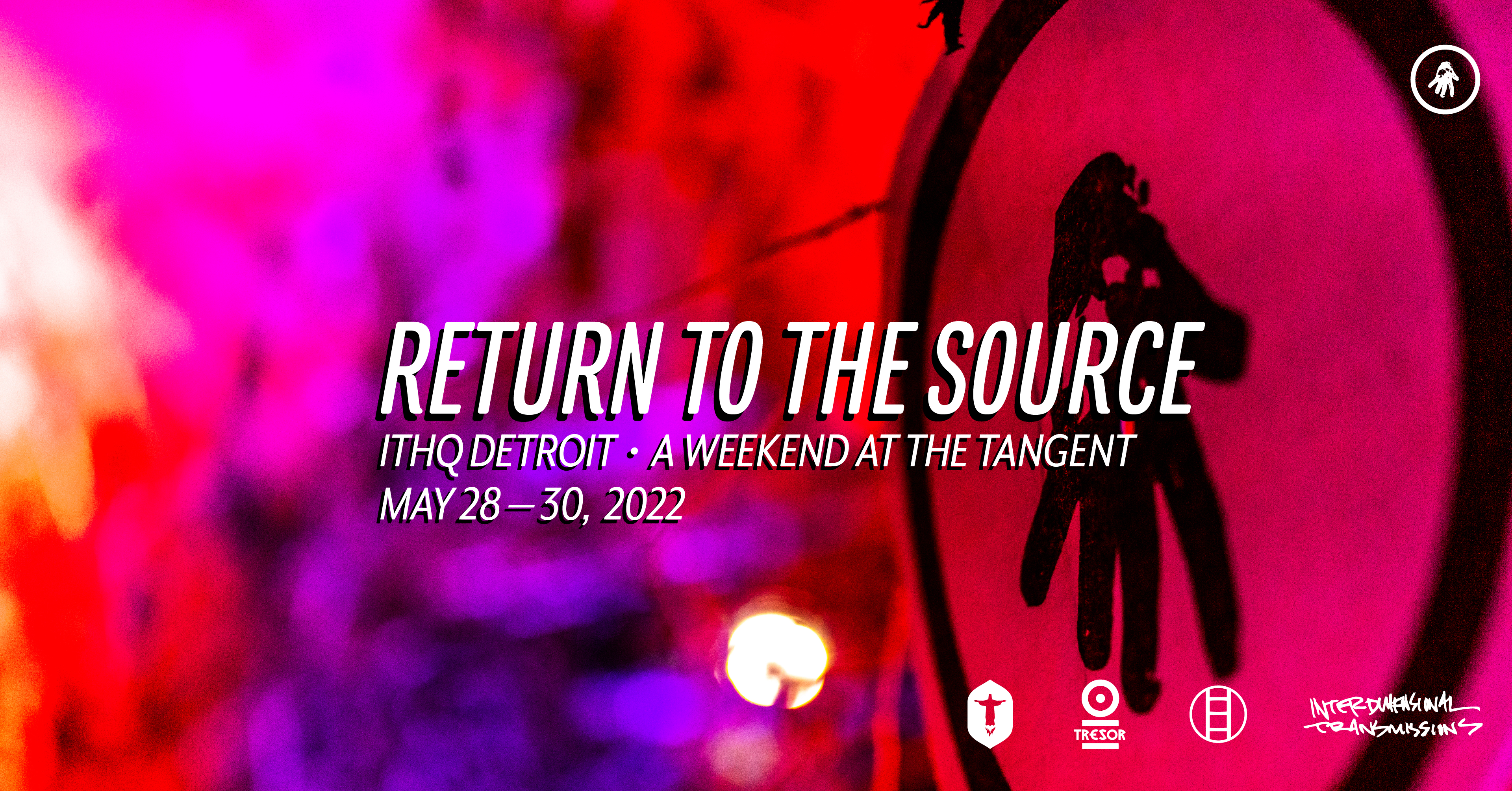 Saturday May 28
Return to the Source — Day 1
Tresor 313
10pm - 8am
Underground Resistance presents Wavejumpers (live)
Shake
Claude Young
Daniel Bell (sunrise set)
Ectomorph (DJ set)
Batu
Boyz II Them (Russell E.L. Butler & ADAB)
Whodat 
Israel Vines
Sunday May 29
Return to the Source — Day 2
No Way Back
10pm - noon
Outer Space Room:
Wanjira Makena (sound bath)
sold
Adam Arthur (live)
Organic Dial (live)
Wata Igarashi
Scott Zacharias
No Way Back Room:
adab
BMG
Bryan Kasenic
Carlos Souffront
Derek Plaslaiko
Erika
Eris Drew
Mike Servito 
Patrick Russell

Monday May 30
Return to the Source — Day 3
Lot Mass
noon - 10pm
Physical Therapy x Father Of Two
livwutang
Gusto x Naeem 
Davis Galvin x Ali Berger
Monday May 30
Return to the Source — Day 3
I.T. presents The Bunker
10pm - 6am
Dance Room:
Forest Drive West x Patrick Russell
Batu x CCL
Mike Servito x Derek Plaslaiko x Craig Gonzalez — Mike Huckaby Tribute Set
Going In Room:
Kiernan Laveaux x rrao
Abby Echiverri x Bryan Kasenic 
Otodojo x Fabiola
—------------------
Return to the Source 2022 is an organic evolution of the original concept, with careful attention to detail put in at every level. We've used this time away to improve ourselves and our infrastructure, to mindfully choose what it is we want to do and share with our community. Our weekend at the Tangent includes 4 parties for the price of one weekend wristband, with an outdoor area containing a harm reduction zone, food truck, and a greater outdoor sound system. Once the music starts at No Way Back on Sunday night, it won't end until Tuesday morning — 32 hours of continuous music. A weekend wristband will allow you to experience all this with no interruptions.
—------------------
What began in 2007 as a party that extended beyond boundaries has found a home in the Tangent Gallery, blossoming into its own kind of festival. There's the Tresor 313 party on Saturday Night of afrofuturism and beyond with Underground Resistance presents Wavejumpers, Batu, Boyz II Them, and ending with a sunrise set from Daniel Bell, and once No Way Back starts on Sunday, the music will continue for 32 solid hours — with Lot Mass directly following No Way Back outside on Monday at noon and The Bunker party on Monday night ending well after dawn on Tuesday. With all these events, the Tangent will become its own special destination for Memorial Day weekend. We all need a place to call our own, and for this weekend the venue of that vision is The Tangent. This is Return to the Source 2022.
We're celebrating with a specially priced weekend pass for all Return to the Source events. This wristband allows:
– Admission to Tresor 313, No Way Back, Lot Mass and The Bunker
– Re-entry to these 4 events at any time
– Priority entry & re-entry lane
This pass will allow you to experience the 32 hour party with no interruptions.
This will be our first physical Return to the Source since 2019! We've all grown and evolved, we can't wait to show you how our team has evolved, how the venue has come alive (so many surprises), and to share all this incredible music in such an incredible environment with you, with music for the whole weekend carefully curated by BMG, and art mindfully transforming the space by Amber Gillen & crew. 
To celebrate our return to dancing around the fire together again, we have new music from Interdimensional Transmissions honoring our fallen friends. We've lost so many, too many in the past few years. The first up is an EP from Andy Toth, a record dedicated to a pillar of our community: Greg "Mudgie" Mudge. We are dedicating this whole weekend to Andrew Smith / Jasen Loveland / ∞, the true spirit of No Way Back and has many forthcoming projects on IT, forever Jase. And the opening set of IT presents The Bunker is a tribute to Mike Huckaby, a formidable influence on our whole scene. 
New records, and new shirts will be available in the merch booth during all Return to the Source nighttime events (the booth closes at 6am during NWB and reopens for The Bunker).
See you on the other side of the wormhole.